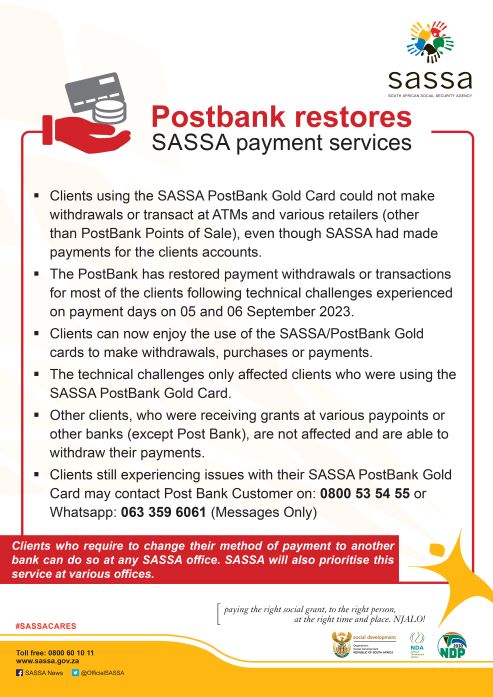 Clients using the SASSA PostBank Gold Card could not make withdrawals or transact at ATMs and various retailers (other than PostBank Points of Sale), even though SASSA had made payments for the clients accounts.
The PostBank has restored payment withdrawals or transactions for most of the clients following technical challenges experienced on payment days on 05 and 06 September 2023.
Clients can now enjoy the use of the SASSA/PostBank Gold cards to make withdrawals, purchases or payments.
The technical challenges only affected clients who were using the SASSA PostBank Gold Card.
If your Sassa/Postbank Gold Card has expired – Take Note.
Other clients, who were receiving grants at various paypoints or other banks (except Post Bank), are not affected and are able to withdraw their payments.
Clients still experiencing issues with their SASSA PostBank Gold Card may contact Post Bank Customer on: 0800 53 54 55 or Whatsapp: 063 359 6061 (Messages Only)

Clients who require to change their method of payment to another bank can do so at any SASSA office. SASSA will also prioritise this service at various offices.
SASSACARES
Toll free: 0800 60 10 11 www.sassa.gov.za
SASSA News
paying the right social grant, to the right person, at the right time and place. NJALO!