Social grant withdrawal process for expired SASSA/ Postbank gold card beneficiaries. You can still use your expired card until 31 December 2023
Table of Contents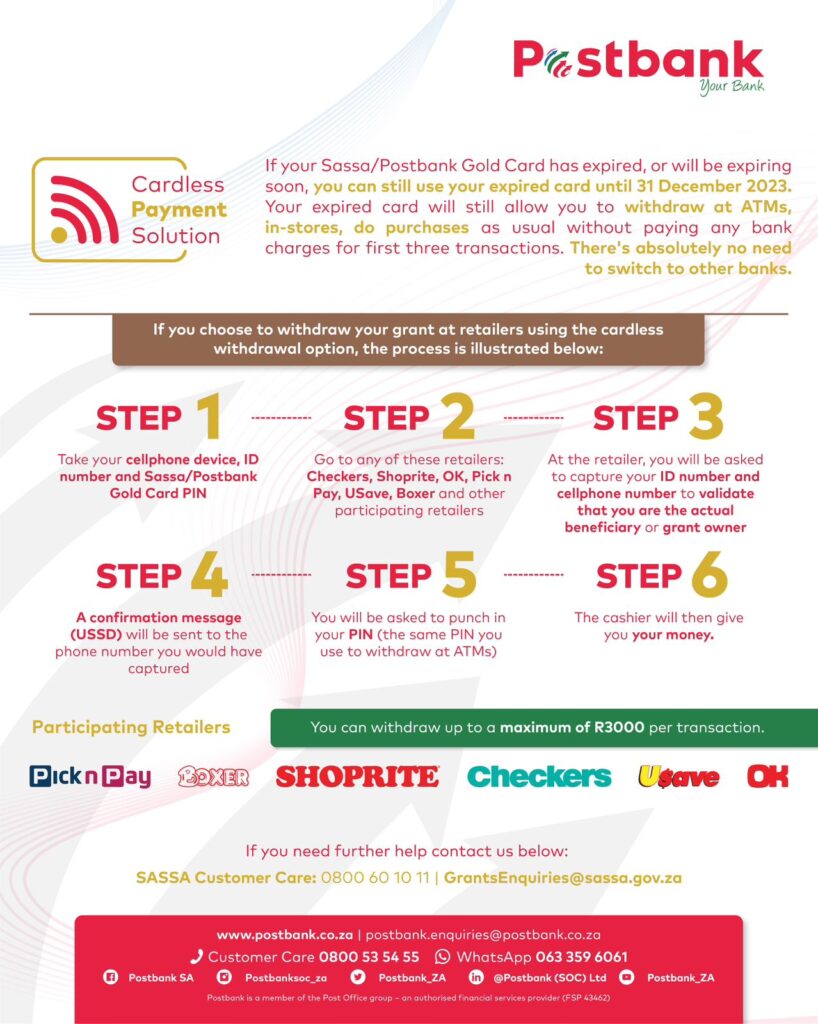 Cardless payment solution
If your Sassa/Postbank Gold Card has expired or will be expiring soon, you can still use your expired card until 31 December 2023. Your expired card will still allow you to withdraw at ATMs,in-stores, do purchases as usual without paying any bank charges for first three transactions. There's absolutely no need to switch to other banks.
If you choose to withdraw your grant at retailers using the cardless withdrawal option, the process is illustrated below:
STEP 1
Take your cellphone device, ID number, and Sassa/Postbank Gold Card PIN.
STEP 2
Go to any of these retailers: Checkers, Shoprite, OK, Pick n Pay, USave, Boxer, and other participating retailers
STEP 3
At the retailer, you will be asked to capture your ID number and cellphone number to validate that you are the actual beneficiary or grant owner
STEP 4
A confirmation message (USSD) will be sent to the phone number you would have captured
STEP 5
You will be asked to punch in your PIN (the same PIN you use to withdraw at ATMs)
STEP 6
The cashier will then give You your money.
READ ALSO: SASSA aims to eliminate long queues at its local offices across the country.
Participating Retailers:
PICK N PAY
BOXER
SHOPRITE
CHECKERS
U-SAVE
OK
Take note: You can withdraw up to a maximum of R3000 per transaction
READ ALSO: Appointing a Procurator for Family Members Unable to Collect Grants: Assisting Elderly and Frail Individuals in South Africa
If you need further help contact SASSA below:
SASSA Customer Care: 0800 60 10 11 | GrantsEnquiris@sassa.gov.za
www.postbank.co.za | postbankenquiries@postbank.co.za
Customer Care: 0800 53 54 55
Whatsapp: 063 359 6061
Postbank is a member of the Post office group – an authorised financial services provider (FSP 43462)