POSTBANK IS EXPERIENCING TECHNICAL CHALLENGES AFFECTING SASSA SOCIAL GRANTS PAYMENTS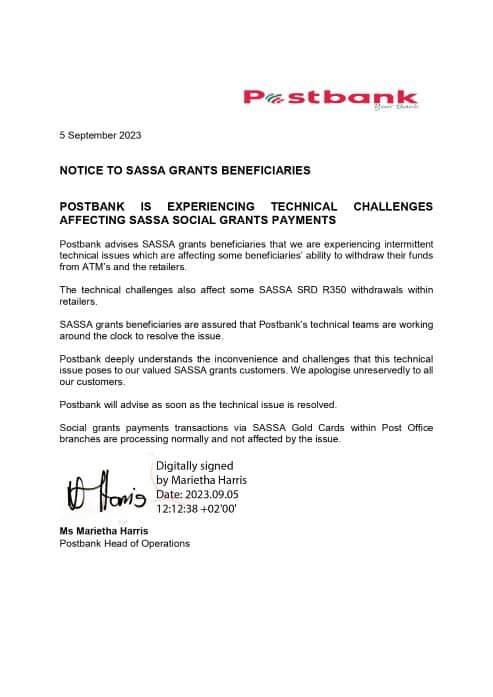 Postbank advises SASSA grants beneficiaries that we are experiencing intermittent technical issues which are affecting some beneficiaries' ability to withdraw their funds from ATM's and the retailers.

The technical challenges also affect some SASSA SRD R350 withdrawals within retailers.

SASSA grants beneficiaries are assured that Postbank's technical teams are working around the clock to resolve the issue.
Postbank deeply understands the inconvenience and challenges that this technical
issue poses to our valued SASSA grants customers. We apologise unreservedly to all our customers.

Postbank will advise as soon as the technical issue is resolved.

Social grants payments transactions via SASSA Gold Cards within Post Office branches are processing normally and not affected by the issue.
Digitally signed by Marietha Harris Date: 2023.09.05 12:12:38+02'00'
Ms Marietha Harris
Postbank Head of Operations
Read also: SASSA aims to eliminate long queues at its local offices across the country.