Salary: R1 371 558 – R1 635 897 p.a. including benefits
General Manager: Grants Administration
Location: North West Regional Office
Ref No. SAS NW CP03/09/23-05
Duration: Permanent
Table of Contents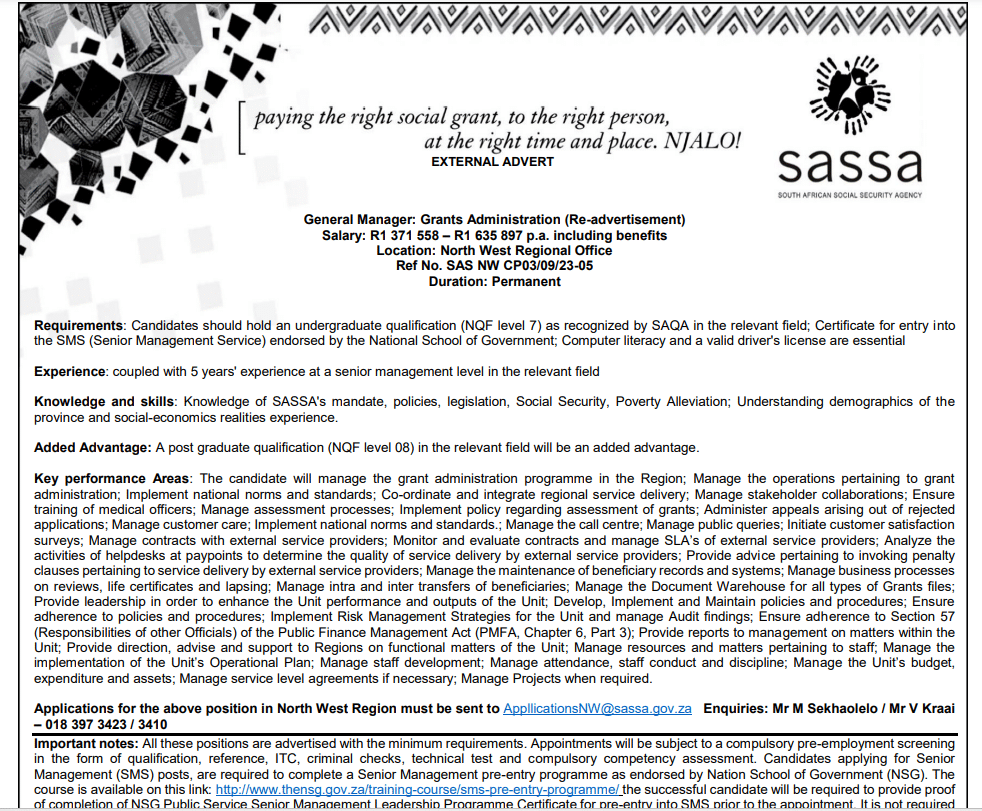 Requirements:
Candidates should hold an undergraduate qualification (NQF level 7) as recognized by SAQA in the relevant field; Certificate for entry into
the SMS (Senior Management Service) endorsed by the National School of Government; Computer literacy and a valid driver's license are essential
Experience: coupled with 5 years' experience at a senior management level in the relevant field
Knowledge and skills: Knowledge of SASSA's mandate, policies, legislation, Social Security, Poverty Alleviation; Understanding demographics of the
province and social-economics realities experience.
Added Advantage: A post graduate qualification (NQF level 08) in the relevant field will be an added advantage.
Key performance Areas: The candidate will manage the grant administration programme in the Region; Manage the operations pertaining to grant
administration; Implement national norms and standards; Co-ordinate and integrate regional service delivery; Manage stakeholder collaborations; Ensure
training of medical officers; Manage assessment processes; Implement policy regarding assessment of grants; Administer appeals arising out of rejected
applications; Manage customer care; Implement national norms and standards.; Manage the call centre; Manage public queries; Initiate customer satisfaction
surveys; Manage contracts with external service providers; Monitor and evaluate contracts and manage SLA's of external service providers; Analyze the
activities of helpdesks at paypoints to determine the quality of service delivery by external service providers; Provide advice pertaining to invoking penalty
clauses pertaining to service delivery by external service providers; Manage the maintenance of beneficiary records and systems; Manage business processes
on reviews, life certificates and lapsing; Manage intra and inter transfers of beneficiaries; Manage the Document Warehouse for all types of Grants files;
Provide leadership in order to enhance the Unit performance and outputs of the Unit; Develop, Implement and Maintain policies and procedures; Ensure
adherence to policies and procedures; Implement Risk Management Strategies for the Unit and manage Audit findings; Ensure adherence to Section 57
(Responsibilities of other Officials) of the Public Finance Management Act (PMFA, Chapter 6, Part 3); Provide reports to management on matters within the
Unit; Provide direction, advise and support to Regions on functional matters of the Unit; Manage resources and matters pertaining to staff; Manage the
implementation of the Unit's Operational Plan; Manage staff development; Manage attendance, staff conduct and discipline; Manage the Unit's budget,
expenditure and assets; Manage service level agreements if necessary; Manage Projects when required.
Applications for the above position in North West Region must be sent to AppllicationsNW@sassa.gov.za Enquiries: Mr M Sekhaolelo / Mr V Kraai
– 018 397 3423 / 3410
Important notes: All these positions are advertised with the minimum requirements. Appointments will be subject to a compulsory pre-employment screening
in the form of qualification, reference, ITC, criminal checks, technical test and compulsory competency assessment. Candidates applying for Senior
Management (SMS) posts, are required to complete a Senior Management pre-entry programme as endorsed by Nation School of Government (NSG). The
course is available on this link: http://www.thensg.gov.za/training-course/sms-pre-entry-programme/ the successful candidate will be required to provide proof
of completion of NSG Public Service Senior Management Leadership Programme Certificate for pre-entry into SMS prior to the appointment. It is not required
that an applicant submit the pre-entry certificate when applying for the post prior to the closing date. It is our intention to promote representivity in terms of
race, gender and disability through the filling of this post and candidates whose appointment will promote representivity will receive preference. It is the
applicant's responsibility to have foreign qualifications evaluated by South African Qualifications Authority (SAQA) prior to the selection process. SASSA is
under no obligation to fill a post after the advertisement thereof. Please note that all SASSA staff are subjected to compulsory security vetting on appointment.
E-mailed applications will be accepted.
The Agency is an equal opportunity employer. Therefore, Preference will be given to candidates whose appointment will assist the Agency in
achieving its Employment Equity targets in terms of the Agency's Employment Equity Plan. Person with Disabilities are strongly encouraged to
apply.
Closing Date: 18 September 2023

Applicants interested in applying for these posts should send their applications (detailed CV and completed New Z83 form) quoting the relevant reference
number and position name as per the advert (The subject heading of the email should indicate the reference number and name of the position you are applying
for. Applicants must ensure that they send their application to a correct inbox/email indicated on each position. Applications send to the incorrect inbox/email
will not be considered. Applications should consist of a comprehensive CV (specifying all experience, duties, indicating the respective dates (MM/YY) per
position, Identity Number, Race and Gender as well as indicating references with full contact details. Interviews may be conducted via a virtual medium which
will be discussed with each shortlisted applicant. Kindly note that copies of qualification, certificate, ID and driver's license etc, should be submitted upon
request.
NB: Application must be sent as a scanned or pdf format as one attachment. Applications without signed New Z83 forms will not be considered.
Failure to comply with the above requirements will results in your application been disqualified.
Z83 application form
If you have not been contacted within 3 months after the closing date of the advertisement, please accept that your application has been
unsuccessful. The candidates who previously applied for the above re-advertised position, must re-apply.

Visit us at www.sassa.gov.za or toll free: 0800 60 10 11.

General Enquiries: Mr Tlou Moloto – Tel No: (012) 400 2326 or Vuyisile Mkhatshwa – Tel (012) 4000 2523