Learn all about checking the status of your Sassa COVID-19 relief (SRD) grant. Stay informed about payment dates and when you can collect your grant.
How do you check if Sassa R350 is approved?
CHECK STATUS
Payment via Bank Account
Receiving payments via your bank account is probably the most convenient payment method and fastest way to receive the grant, it also means you can avoid queuing in person at the Post Office. The amounts for each month will be paid into the beneficiary's bank account as per the grant application.
Please note that the bank details or cellular phone number provided for payment MUST be registered in the name of the approved applicant used in the Covid-19 R350 grant application process to make sure that payment goes to the correct recipients.
Payment Collection
If you don't have any banking details, individuals can collect their grant cash from the Pick-N-Pay, or Boxer stores. Or alternatively a Bank Mobile Money Transfer (cash send option). You will only be able to collect the grant money once you have received a notification SMS confirmation to say there has been confirmation of payment. Once you have carried out the Sassa payment status check, you can use the below table to see the SRD Grant Payment Dates for this month.
Social grant payment dates for 2023–2024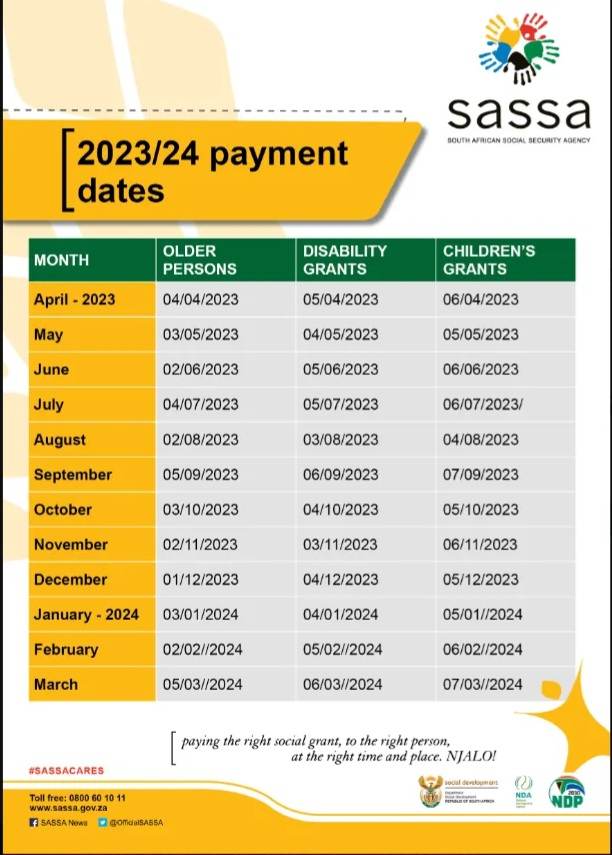 Please be advised that there is no specific due date for the COVID-19 SRD payment.
Why is my Sassa R350 approved but no payday?
There could be a number of reasons why your Sassa status check has been approved but you have not yet received payment. Those approved but not yet paid will often be those whose records are outstanding bank accounts, bank accounts provided failed bank account verification, bank accounts pending verification from National Treasury, or those who selected Cash send payments. There have been ongoing complications with some banks and bank accounts which continue to be worked on and improved. You can also check the article below.
ALSO READ: What To Do If Your SASSA SRD R350 Grant Is Approved but No Payday?
Why has my SASSA Status Check Failed?
The Sassa online application may show as declined or failed due to one of several reasons:
An alternative income source may have been identified taking you over the minimum threshold
You may be registered for the NSFAS
Already UIF registered
The identity verification check may have failed
All SASSA Status Check Results
See a list of all potential results from the Sassa status check below and what actions you can take or expect from each result.
| | |
| --- | --- |
| SASSA Status | Explanation |
| Application Complete | Congratulations. You have successfully completed your Sassa application and the R350 grant should be awarded to you each month. |
| Bank Details Pending | Sassa has approved your application, and now it's time to select the optimal payment gateway for you. With options like Cash Send or Bank Transfer available, visit srd.sassa.gov.za – where all necessary information regarding banking details can be obtained. |
| Reapplication Pending | To remain eligible for the grant, applicants must submit a new application each year. If this has not yet been done, the reapplication is pending and their eligibility remains uncertain. |
| Period Pending (e.g. sassa status pending January) | Sassa has taken note of the reapplication submitted by an applicant, but they must wait until later in the month to determine if their request was approved. In order to be updated on this status, applicants should return and check back with them at a later date. |
| Period Approved (e.g. January Approved) | The good news is that Sassa has approved the grant application for your specified period. To find out when their payment will arrive, clients should review the pay date field on their account – if an exact date hasn't been listed there yet, it means they haven't processed any payments as of yet. |
| Period Declined (e.g. January Declined) | Sassa grants have not been approved for this period. Applicants should have been notified of the rationale behind their individual denial and are able to request reconsideration or submit a formal appeal within 30 days of receiving this notice status. |
Sassa Status Check Reconsideration Process
The reconsideration process is where they double-check the personal details and income status to make sure they are vulnerable individuals. There has recently been announcements of delays in the processing of reconsideration requests due to the longer time periods in communicating with the banks and financial institutions. Remember, in order to receive the covid-19 grant you must not be receiving any other government covid-19 response support.
How do I have my R350 Grant reconsidered?
If you see your Covid-19 SRD R350 grant application sassa status check as 'Reapplication Pending' then you should follow the below steps to dispute your R350 grant status:
Go to the SRD portal: https://srd.sassa.gov.za
Click on the 'Application for Reconsideration' tab
Then select 'Click here to apply for reconsideration'
Provide your ID number and cellphone number
Complete the rest of the steps for reconsideration of your payment
How to Access via the SRD SASSA Gov Login?
Grant applicants can also check the current SRD grant application status on the official SASSA website here: srd.sassa.gov.za
Navigate to the SRD grant application status on the official SASSA website using the online dashboard link here: https://srd.sassa.gov.za/sc19/status
Enter your South African ID number of Applicant
Enter the phone number you used to submit the application
Your sassa status check will then be displayed on the following page
SASSA Reconfirmation no longer required
On the 9th of September SASSA announced that individuals are no longer required to reconfirm their grants every three months. Lots of people were not a fan of this protocol. SASSA have not amended their regulations and individuals no longer have to submit responses to screening questions every three months.
FAQ – SASSA Status Check
What happens if my SASSA application has failed?
There may be a number of reasons why your application has failed. The most common one found is due to incorrect banking details. Remember to double-check the bank details you provide on your application to ensure they are in the correct format.
When will the SASSA R350 Grant end?
The finance minister announced that the social grant would be extended until March 2024. This announcement was by the Department of Treasury in the Medium-Term Budget Policy statement held in October 2022. Remember, the grant should be seen as a temporary grant and an opportunity to help those find new career options. Check out the rules for any new SASSA Application.
What does the SASSA Status Check "Cancelled" mean?
If your SASSA R350 grant status is coming back as cancelled, this most likely means that you have been identified as not meeting the criteria as one of the grant beneficiaries. This could be due to other sources of income, grants, or employment which means you do not meet the SASSA Means test.
Table of Contents