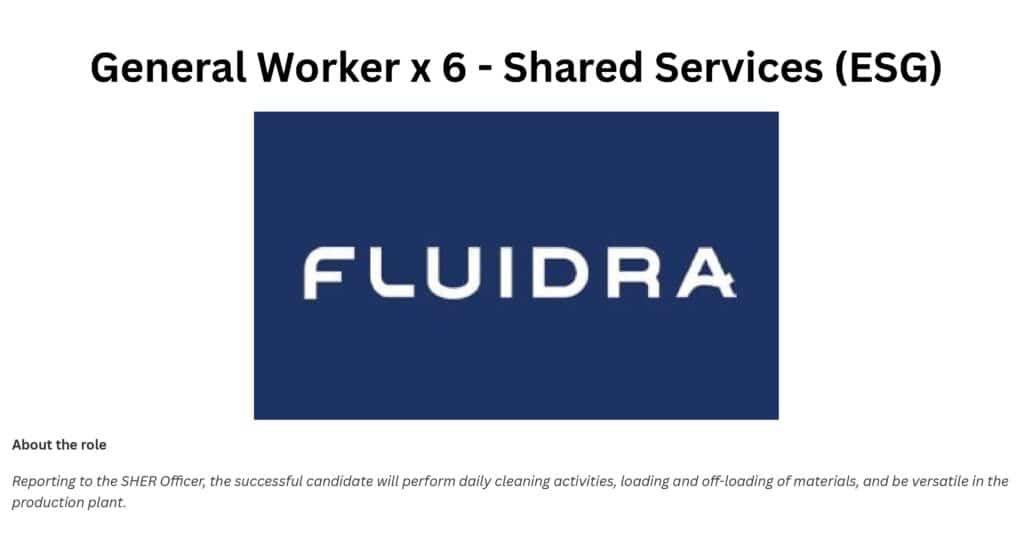 Company name: Fluidra Waterlinx
Location: Gauteng
Get to Know Us
Are you ready to embark on a rewarding career journey that combines innovation, sustainability, and global impact? Then we are looking for you. General Worker x 6 – Shared Services (ESG)
Create the perfect pool experience
Fluidra is the ideal choice if you're seeking a dynamic, innovative and purpose-driven career. Join a global leader in the pool and wellness industry, where sustainability, collaboration, and personal growth are not just aspirations but core values. Dive into success with Fluidra and embark ona fulfilling journey that combines your professional aspirations with a positive impact on the world. 
About the role
Reporting to the SHER Officer, the successful candidate will perform daily cleaning activities, loading and off-loading of materials, and be versatile in the production plant.
What you'll do
•Daily cleaning activities including but not limited to: vacuuming, washing of floors, cleaning of ablution facilities, cleaning of change rooms, cleaning of canteens, polishing of floors, and cleaning of office areas, washing of windows.
•Operating walk-behind floor scrubbers.
•Manual loading and off-loading of material from delivery vehicles.
•Cleaning of indoors and outdoors areas
•Clearing of weeds
•Empty waste bins
•Perform additional duties as needed
What you need, to dive in
•National Senior Certificate / Matric / Grade 12 Certificate (Completed)
•Working experience within a Production/Warehousing Environment
•Ability to read/write/speak English
•Able to work extended hours as and when required
•Able to lift heavy objects
•Able to bend and crouch
•Able to complete tasks in a timely manner
All the benefits you need for you and your family
•Ongoing training, support, and development
•Friendly & Fun working environment
•Strong Global Brand that is investing in South Africa
Interested?
Fluidra is a workplace where everyone can develop. So however you identify and whatever background you bring with you, please apply online via Pnet if this role would make you eager to come to work each day. 
Should you not hear back from us within 2 weeks after the closing date, please note that your application was unsuccessful.