The South African Social Security Agency (Sassa) distributes more than 18 million permanent grants to vulnerable beneficiaries every month. Sassa is responsible for the application, approval, and distribution of social grants to beneficiaries across the country.
These permanent grants include the Older Person grant, Disability grant, War Veterans grant, Care Dependency grant, Foster Child grant, Child Support grant, Child Support grant Top Up, and Grant-in-aid.
Table of Contents
Confirmed Sassa Grant Payment Schedule for August 2023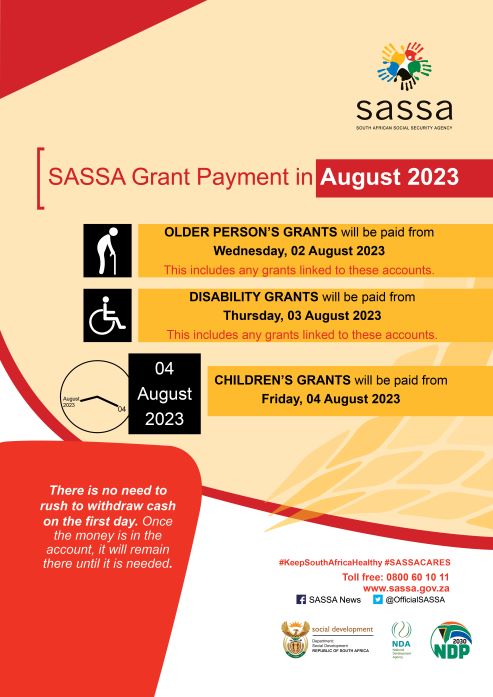 The first week of each month is usually reserved for the payment of permanent social grants. Staying updated about the Sassa payment schedule is always advisable and useful.
The agency has confirmed that these are the payment dates for August:
Older Persons Grant – Wednesday, 2 August
Disability Grant – Thursday, 3 August
Children's Grant – Friday, 4 August
It's important to note that the special SRD grant, does not have a fixed payment date. Sassa approves applications for this grant, and beneficiaries are notified via message when their payment is available for collection.
How to apply for SASSA
Applying for Sassa benefits is a straightforward process. To apply, you will need to visit your nearest Sassa office or designated service point.
You will be required to complete an application form and provide supporting documents, such as your ID document, proof of income, and proof of residence.
It is important to ensure that you have all the necessary documents before visiting the Sassa office to avoid any delays in the application process. Once your application has been submitted, it will be assessed by Sassa to determine your eligibility for the specific benefits you are applying for.
If approved, you will start receiving the benefits on a monthly basis.
Collect Your Sassa Grant
Sassa has made it clear that beneficiaries should not rush to withdraw their Sassa payment on the first day it becomes available and to remember that once the money has been sent to their accounts, it will remain there until they need it.
There is no need to rush to withdraw cash on the first day. Once the money is in the account, it will remain there until it is needed. 
In addition, there are a few ways beneficiaries can collect their grants. These include:
Bank Account
Permanent grant beneficiaries and SRD recipients have the option of having their grants paid directly into their bank account. This is a convenient grant payment method as beneficiaries can access their money at any time after the payment was made by Sassa. 
Retail outlets
Sassa grants are paid to selected retailers around the country. The vast geographical footprint of retail outlets makes it easy for grant recipients to find one close to where they live.
Beneficiaries can withdraw their money at any time when the retail outlet is operational. Pick n Pay, Shoprite, Boxer stores, Usave stores, and Checkers all distribute social grants.
Mobile Cash Pay Points
There are also mobile cash pay points where grant beneficiaries can collect their money. However, this is not a flexible payment option and beneficiaries may only collect their grant payment for a few hours during a grant payment cycle.
Sassa Gold Cards
In May 2023, Sassa announced that it would extend the validity of gold cards until the end of the year. This is because millions of Sassa gold cards were set to expire in the coming months.
This means that grant beneficiaries can continue using their expired Sassa gold cards until the end of 2023.  Additionally, Sassa introduced a payment method which allows beneficiaries to collect their money without a Sassa gold card.
Sassa Grant Increases
Every year, the Finance minister announces social grant increases. In 2023, permanent Sassa Grant beneficiaries will receive two rounds of increases with one already having taken place.
These grants were recently increased in April and will see another increase in October 2023. The amount of money received by grant beneficiaries will increase again in October 2023 except for the Child Support Top-up grant.
Read our article on Sassa grant increases for 2023/24 to find out more.
Need To Contact Sassa?
You can visit the Sassa website for information or contact Sassa directly here. The Sassa toll-free number (080060 10 11) and dedicated email address for grant enquiries (grantenquiries@sassa.govdotza) are available for assistance and support.
The SASSA Toll-Free Number
The SASSA toll-free number is a dedicated helpline specifically designed to address queries and provide guidance to applicants and approved grant beneficiaries. Toll-free means that it does not cost beneficiaries any money or airtime to call SASSA for their grant queries.
The SASSA Head Office
Serious concerns may be escalated to the SASSA head office, which is the central administrative body responsible for overseeing the grant distribution process.